Philadelphia Vinyl Flooring
Used for about 100 years now, vinyl flooring is a reliable construction material that boasts durability, water resistance, and low maintenance, among many other significant benefits.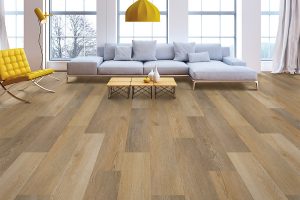 Vinyl flooring was first invented to become an alternative to linoleum—the original resilient flooring material—and has since become a fixture in many bathrooms and kitchens. If you also want this material's resilience in your own home, Buenos Ayres Flooring is the best Philadelphia vinyl flooring provider that you can find.
Vinyl floors are not totally resistant to all the possible damages caused by wet areas where they're primarily used. However, being waterproof and easy to clean while staying affordable makes them the go-to flooring for many people. Vinyl flooring comes in various forms: sheet vinyl, vinyl tiles, luxury vinyl planks, and luxury vinyl tiles. Our vinyl flooring experts at Buenos Ayres Flooring can help you choose the best type and design that will fit your needs, personality, and budget.
After you decide on the final look that you want on your floors, our installation team will discuss the whole installation plan. This way, you can be sure that you know exactly what will happen in your house, what outcome you should expect, and when you will see it.
If you want to start installing your dream floors now, remember that our Philadelphia vinyl flooring experts are just one call away.
Call Buenos Ayres Flooring at (215) 439-0482 for your Free Consultation!
Types of Vinyl Flooring
There are several categories of vinyl flooring that you can choose from. All of these groups are classified as 'resilient,' but each of them has different quality and method of installation. Buenos Ayres Flooring can help you distinguish what's best for your property and walk you through the entire installation plan.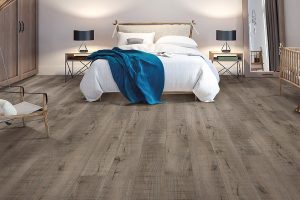 Our Philadelphia vinyl flooring experts will also guide you through our whole selection of the following flooring materials:
1. Resilient sheet vinyl
Among all forms of vinyl flooring, this is the most common. This is made of thin, flexible vinyl sheets attached to a transparent wear layer with a printed design. Resilient sheet vinyl can be laid with very few seams seeing that it comes in rolls that are either 6 or 12 feet wide. If you're looking for vinyl flooring to install in wet locations like your bathroom, sheet vinyl is your best and cheapest option.
2. Resilient vinyl tiles
This form of vinyl flooring is almost exactly like sheet vinyl. However, resilient-vinyl tiles are sold in boxes of square-shaped pieces. In terms of installation, this vinyl flooring can either be glued down using a troweled-on adhesive or with a pre-applied adhesive that gets exposed when the peel-off back is removed.
3. Luxury vinyl
Compared to the other two, luxury vinyl is at some level different. This vinyl flooring material is manufactured as thicker and semi-rigid long planks or tiles. Those in the form of long planks are called luxury vinyl planks, while the other is known as luxury vinyl tiles. Generally, planks are created to look like wood, and tiles are crafted to resemble ceramic or stone tiles.
Regardless, both of these are floating floors that are attached over underlayments without any glue-down bond. Out of every form of vinyl flooring, luxury vinyl always comes out on top. It can increase your property's total value if installed correctly by professionals.
Advantages of Vinyl Flooring
No matter what form of vinyl flooring you choose to install, they have remarkable advantages that you should take note of. Some of the benefits you can get from our available Philadelphia vinyl flooring are the following:
Durability. Even if vinyl flooring feels relatively soft underfoot, it is a tough flooring material. This makes sense, though, since it is originally manufactured to be an alternative to the first resilient flooring material—linoleum.
Water resistance. Vinyl flooring rose to popularity for their usefulness in wet areas like bathrooms and kitchens. This flooring material displays remarkable resistance to moisture, humidity, and steam. Even if it may sometimes be vulnerable at the seams, it generally stops water from damaging your subfloor by preventing it from being absorbed right from the surface.
Easy maintenance. Maintenance is where vinyl flooring can also boast about its benefits. It is very easy to clean since it resists all stains, scratches, dirt, and punctures. However, if heavy furniture doesn't have protective pads on their legs, they can pierce through the vinyl. Also, only high-quality vinyl products have UV protection. Others may get slightly yellowish if they're constantly being exposed to direct sunlight. Besides that, you should also keep an eye on rugs with rubber backing since they can sometimes cause a chemical reaction that can stain your vinyl flooring.
Top Philadelphia Vinyl Flooring Service Provider
When constructing or remodeling your house, always go for a flooring material that's durable yet budget-friendly. At Buenos Ayres Flooring, we offer a vast selection of vinyl flooring that we can tailor to match your other home decor, personality, and lifestyle. Whether you want resilient sheet vinyl or vinyl tiles, we have many available designs for you to choose from. We even have luxury vinyl planks and tiles if you want to add real value to your home.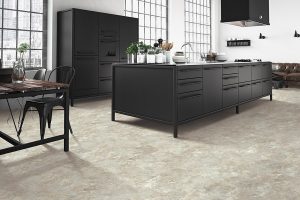 Our Philadelphia, PA vinyl flooring experts can give you a comprehensive guide on the advantages and slight drawbacks of every option that you have. We will even lay down multiple installation options so you could choose exactly what's best for your home and your family.
Whether you already have a concrete idea of what the outcome you want to be, or you're just choosing as you go, rest assured that our vinyl flooring specialists will assist you in every way possible. You also don't have anything to worry about since we do this with absolutely no pressure. We will let you calmly make your decisions while giving you useful tips along the way.
With Buenos Ayres Flooring, you are guaranteed premium flooring services with vinyl flooring materials worth every dollar you'll spend. Just talk to our flooring specialists, and we will get your dream flooring done as soon as possible.
Free Initial Consultation

If you want an economical choice for your bathroom and kitchen flooring, vinyl is the answer. It is a waterproof and incredibly easy to clean flooring material. You may even go for luxury vinyl with a more upscale appearance to increase the total value of your home. Give us a call, and our Philadelphia vinyl flooring experts will gladly assist you in choosing the best floor for you and your family!
Call Buenos Ayres Flooring at (215) 439-0482 for your Free Consultation!